In my Studio
Sep 17, 2016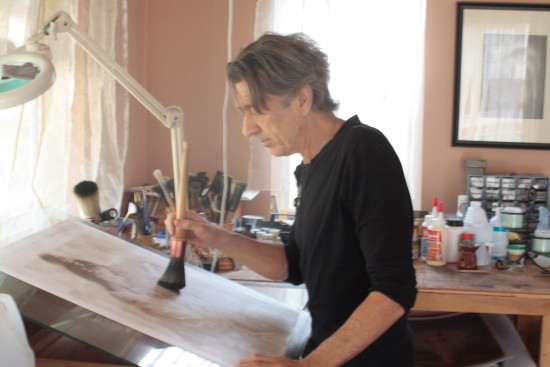 "In my Mirage Studio"
My studio, being the brightest room in our house with its skylights, is facing the mountain range, surrounded by fruit trees, and in the summer by the delicate smell of wild violets scattered in the grass, and the luxurious scent of the lilacs. Listening to inspirational talks or an eclectic choice of music (from Dvorak to Harry Manx or the Neville Brothers) I prepare myself to ink the matrix. It is then that I feel in perfect harmony with myself, totally in the moment. There is no time. My creativity just flowers. I enjoy the process of bringing the light out of the darkness in the artwork by erasing, clapping, and rubbing some of the inked layers off. The piece all of a sudden has a life of its own and is guiding my next move. I'm totally driven by it, if there is anything like the I.
Enjoy this Art illustrated Free E-Notebook: Click on the image to download.