Canadian Artist Chosen To Be Featured By Artsy Shark Gallery
Dec 27, 2016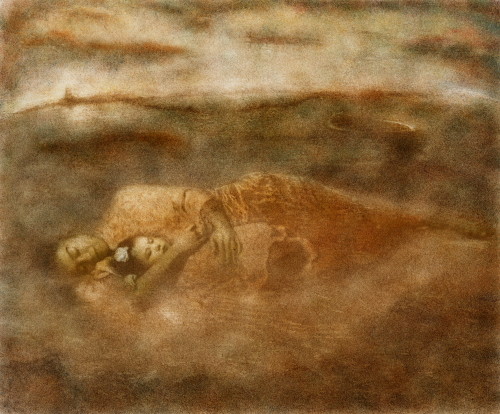 "The Awakening"
Mirage Studio is pleased to announce that Frantisek Strouhal, West Kootenay fine art artist, has been chosen to be a featured artist at Artsy Shark Gallery.
"The juried competition," wrote Artsy Shark's owner, Carolyn Edlund, "was a challenging process due to the high level of talent and the quality of the portfolio."
Artsy Shark recently launched an online gallery representing a highly curated selection of artists whose work is appropriate for residential and corporate environments.
Strouhal has won numerous awards and has been featured in various juried and invitational exhibitions throughout North America. His artworks can be found in many public and private collections in Canada, the United States, and Europe.
The artist captures the figure of live models with his 4 x 5 camera to create his artwork. Then in a collage effect, he incorporates the portraits with images of landscape, architectural details and still life on a paper negative. Afterward, the negative is contact printed on a specially treated watercolor paper on which lithography inks are applied, layers by layers.
Frantisek Strouhal lives and works in the Slocan Valley where he spends most of his time creating new pieces and doing commissioned portraits. His art can be seen on his new website www.frantisekstrouhal.com. And you can view his very unique technique in this video produced in January by Spokane public TV on youtube "Northwest Profiles: Art Embracing Awareness (oil printing, )".
Sign up for my NEWSLETTER